Elephant Tail
2005 Darwin Award Winner
Confirmed True by Darwin

(28 January 2005, Pendang, Thailand) It's no secret that elephants are big. Elephants eat hundreds of pounds of food a day just to maintain their weight. Indian elephants are nine feet tall at the shoulder. They're so powerful that in Southeast Asia, males are used to haul massive tree trunks with their three-foot tusks, work performed by heavy equipment in other countries.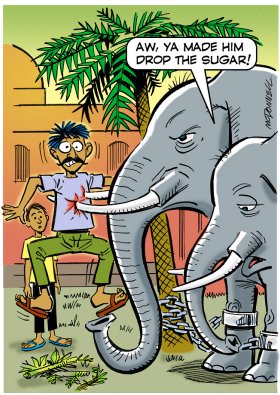 It's also no secret that teasing an animal makes it mad. Teasing a animal that can carry a tree with its tusks may not be a good idea. Yet that was the very idea that formed in Prawat's head, when he saw a herd of five performing elephants chained to trees outside a Buddhist temple.
While the owner waited inside for an entertainment permit, Prawat, a 50-year-old rubber-tapper, offered sugar cane to one of the ever-hungry elephants... then pulled it away. Then he did it again. And again. And again.
The game was great fun for Prawat, but the elephant quickly tired of it. The last time Prawat withdrew the treat, the elephant swung his massive tusks and gored him through the stomach. Prawat died on the way to the hospital. The elephant got his treat.
Reader Comments:
"Elephants have feelings, too."
"Chalk one up for the animal lovers."
"Dont' tease the elephants!" -Mom
"Elephant Tail"

DarwinAwards.com © 1994 - 2022
Reference: The Star (Kuala Lumpur)