Man Slices Off Penis
1997 Darwin Awards Winner
Confirmed True by Darwin

Alan Hall, 48, was found collapsed on the front lawn of his brother's Fairfield home on December 5, 8 hours after his penis had been cut off at the base. Paramedics rushed Hall to North Bay Medical Center, where surgeons were unsuccessful in their attempts to reattach his severed organ.

Hall blamed the maiming on a woman named Brenda, whom he met at a local gas station the previous night. He brought Brenda to his trailer, parked in the driveway of his brother's Fairfield home, and had sex. Around 3AM, the woman mentioned revenge and cut off his penis with a razor-sharp hobby knife, then fled the trailer on foot. Details of the attack were sketchy, and police were unsure why Hall could not defend himself. Fairfield police Lieutenant William Gresham said Hall may have been using drugs.

A heated manhunt for Brenda ensued. She was described as a 42-year-old white female, 5' 7" and 135 pounds, dressed in a white blouse, navy blue jacket and blue slacks, and possibly driving a brown Ford F350 pickup truck.

Meanwhile, after being discharged from the hospital on Monday, Hall drove off in a pickup hitched to his trailer and disappeared. Detectives were eager to interview him again, but were unable to locate him due to his transient lifestyle.

More intriguing details began to emerge.

Hall was arrested during the 1970's for drug possession and drunk driving. In 1982 he was arrested for taking his young daughter out of state. Psychological tests suggested that he suffered permanent mental trauma while serving with the U.S. Navy in Vietnam, causing blackouts and alcoholism. His ex-wife described him as a packrat who enjoyed taking trips in his mobile trailer home.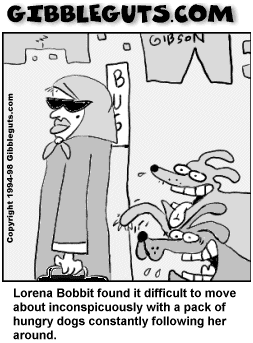 In 1983 Hall was convicted of voluntary manslaughter of a 23-year-old Suisun City woman found strangled in a car parked at a local Denny's restaurant on 17 February. Hall confessed to the murder, saying that she taunted him about his inability to achieve an erection when he tried to have sex with her. His statement was ruled inadmissible because of improper police interrogation techniques, and prosecutors agreed to let Hall plead guilty to voluntary manslaughter. He served half of a six-year prison term.
Police speculated that the woman who cut off his penis may have been carrying out a 14-year-old vendetta for the slaying of her friend. But the truth was even stranger.
When Hall was finally located and interviewed on Thursday, he admitted that he cut off his own penis. A voice stress analyzer indicated that he was telling the truth. "At this point, there is no evidence that a crime occurred," police Lieutenant William Gresham said in a press release. "The case is being reclassified as an injured person report." Hall may face misdemeanor charges for filing a false police report.
Ironically, Alan Hall works as a pipe-fitter, according to court records.
DarwinAwards.com © 1994 - 2022
Submitted by Wendy Renee
Reference: darwin@DarwinAwards.com