One Way Ticket
2017 Darwin Award Winner
Confirmed True by Darwin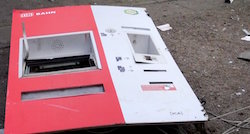 (21 March 2017, Germany) Blasting apart a ticketing machine at the train station was supposed to buy him a ticket to the good life, but instead the 31-year-old purchased passage in the opposite direction, losing his life in an explosion that ripped the metal front panel off the machine.

The details are: he stiffened his resolve with a few drinks at a bar, he was spotted spraying cans of aerosol gas into a ticket vending machine, he placed the empties in a jute bag, and then he ignited the gas (by means undisclosed) causing an explosion that rocked the Dortmund neighborhood.

A bar acquaintance recognized him and called for emergency help. But, sprinkled with shrapnel wounds and suffering a substantial head injury, the man rapidly succumbed to death despite resuscitation efforts.

Safety measures as simple as wearing a leather jacket and motorcycle helmet would have changed the outcome for Mr. One Way Ticket Out.