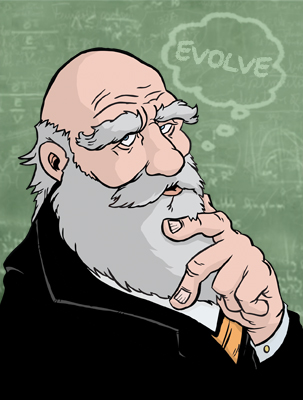 Honoring Charles Darwin, the father of evolution, Darwin Awards commemorate those who improve our gene pool--by removing themselves from it in the most spectacular way possible.
Short & Sweet
2000 Darwin Award Winner
Confirmed True by Darwin
"A woman chasing a rat with a lit roll of paper set her bed ablaze and narrowly escaped from a smoke-filled apartment with her life at the Royal Beechnut Apartments in Houston." ABC13 and KTRK Houston Texas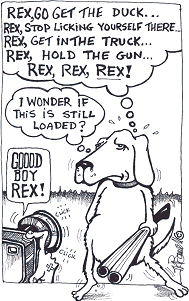 "People injured or killed in the Michigan firearms deer season include a Bay City man shot in the leg while trying to photograph his dog holding a rifle, which accidentally went off." 28 November 2000 Michigan Live
"Something strange is happening to Malaysia executioners manning the gallows. Three people in the last two years have accidentally hanged themselves while clowning around. The most recent mishap occurred when the executioner prepared for an upcoming sentence and slipped the noose around his neck. Apparently he wanted pictures taken of himself standing on the gallows when the trap door gave way, breaking his neck instantly. "
29 November 2000 Bizarre News, Kuala Lumpur Malaysia
"A 27-year-old policeman fell to his death when he accidentally piloted a powerful speedboat over 165-foot high Loskop Dam near Johannesburg." Reuters South Africa

Two soldiers died in their tent when fumes from an illegal propane heater snuffed their lives in Barstow, California. Officials said they were on an Army training exercise in the Mojave Desert when they broke new ground in abuse of gas-powered equipment." 15 January 2001 TAP
"An off-duty Los Angeles police officer accidentally shot himself while cleaning his gun, and was treated for a groin injury at a nearby hospital." 14 January 2001 Sacramento Bee
DarwinAwards.com © 1994 - 2021
Submitted by: Lynette P, Marehill, Douglas Malloy, Janet Stone, Michael Jeppesen
Kobus says, "I just had to comment on the policeman who piloted the speedboat over Loskop Dam. "Loskop" is a Afrikaans word that translates to "scatter brain," which puts a whole new twist on this tale!"
Ruthanne says, "Bay City man shot in the leg while trying to photograph his dog holding a rifle, which accidentally went off... This has it all! Adventure: a man and his gun. Love: a man and his dog. Pathos: a dog shooting his man. Humor: a man shot by a dog! Mystery: "Why in the hell...?" It's a Greek tragedy in one short, stupid act."