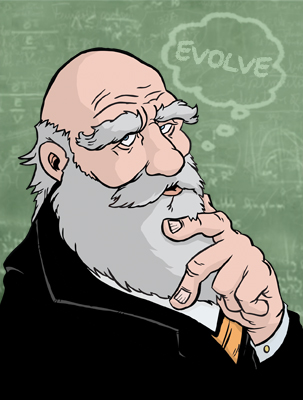 Honoring Charles Darwin, the father of evolution, Darwin Awards commemorate those who improve our gene pool--by removing themselves from it in the most spectacular way possible.
Smarter Animals
1999 Darwin Award Winner Unconfirmed by Darwin
(16 August 1999, Germany) A hunter from Bad Urach was shot dead by his own dog on Monday. The 51-year-old man was found sprawled next to his car in the Black Forest. A gun barrel was pointing out the window, and his bereaved dog was howling inside the car. The animal is presumed to have pressed the trigger with its paw. Police have ruled out foul play. Since it happened in a hunting preserve, does the dog get the head mounted on a wall in its doghouse?
(1991, Nicosia, Cyprus) Under similar circumstances, an Iranian hunter was shot to death near Tehran by a snake that coiled around his shotgun as he pinned the reptile to the ground. Another hunter reported that that the victim, named Ali, tried to catch the snake alive by pressing the butt of his shotgun behind its head. The snake coiled around the butt and pulled the trigger, shooting Ali in the head.
DarwinAwards.com © 1994 - 2020
Submitted by: Dave Blaskovich, David Strobl, Cheryl L. Leonard,
Brad Parman, Ken Cassady, Jeffrey Sams, Frank Robinson
Reference: Islamic Republic News Agency, Norfolk Virginia News,
ABC News, Austria Press, Germany Press, Reuters,
news.excite.com, Bloomberg News, DPA, Reuters