I was the emergency room physician at a small rural hospital in Ohio, when a man in his early thirties signed in. He refused to tell the nurse what was wrong. "Something private to discuss with the doctor" usually means tragedy or comedy, and always means interesting. This one was no exception.

When I walked in with his chart, the man sheepishly unfastened his pants to reveal his injured penis. Fortunately it was not bleeding, but I was appalled to see a mid-shaft gash going at least halfway through. After the initial shock, I looked closely and saw a few torn-out stitches. He explained that the week-old initial injury had been repaired by an urologist, and he was in to see me merely because the wound had opened up again.

Naturally I asked him how the injury had happened. "I tried to make a horse do something she didn't want," he said, and had been bitten in the process. He deserves a Darwin Award since the wound caused by his attempt at horse fellatio severed the nerves necessary to procreate, though he retained his (disfigured) penis.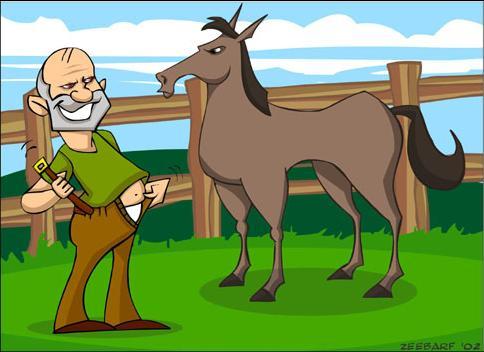 DarwinAwards.com © 1994 - 2020
Submitted by: Anonymous MD