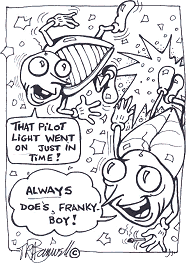 In about 1985 on a street named Jupiter, the local papers covered a story about Hans. Hans was a single man living on the top floor of a three story block of flats. He was a trained in welding -- a job requiring knowledge of flammable and compressed gasses, which makes this story all the more remarkable.
Hans volunteered to make a temporary home for his sister's cat and, apparently, a load of fleas. After the cat returned to his sister, the fleas remained and began to drive him crazy. He asked for advice and was told to treat the apartment with flea spray.
For some reason he chose a more drastic approach and bought 10 cans of fly spray. He sealed off all the windows and doors using duct tape, and Hans proceeded to puncture all tens cans and leave the building while they spewed their pressurized contents.
When the pilot light ignited the vaporous propane/butane mix, the result was a giant explosion which removed his apartment from the building and caused over a million guilders of damage to the neighboring flats. Glass was thrown far and wide and cars were destroyed by flying debris.
The big winners were the fleas, which were not only unharmed by the gas and the blast, but were also spread onto all the neighboring cats and dogs.
Incidentally, many people offered to help make Hans a Darwin Award winner by removing him and his genes from circulation, but as far as we know only his reputation and flat were damaged.
DarwinAwards.com © 1994 - 2020
Submitted by: Andrea Mica