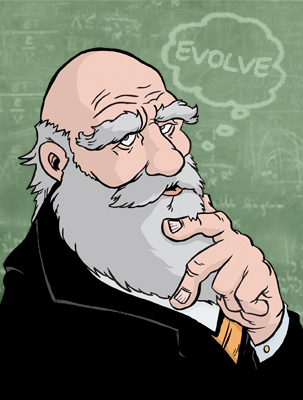 Honoring Charles Darwin, the father of evolution, Darwin Awards commemorate those who improve our gene pool--by removing themselves from it.
Slaughterhouse Robbery
2003 Darwin Award Winner
Unconfirmed by Darwin
(12 February 2003) Three men wielding knives tried to rob a slaughterhouse. But when it comes to hand to hand combat with sharp blades, butchers working in a slaughterhouse are more than a match for your average thief. They stabbed two of the intruders to death. The third man escaped from the angry butchers and fled in his car.
Police soon spotted him, and after a brief car chase, the would-be thief pulled over and leapt from his vehicle. But instead of fleeing into the underbrush, he tried to dodge heavy traffic and escape across the highway. Perhaps he thought that threatening butchers with knives was not a sufficient demonstration of his intelligence.
Within seconds, the natural justice system meted out his punishment in the form of a large truck, which struck and killed him.
DarwinAwards.com © 1994 - 2017
Submitted by: Wieger van der Meulen, Eye Wiersema