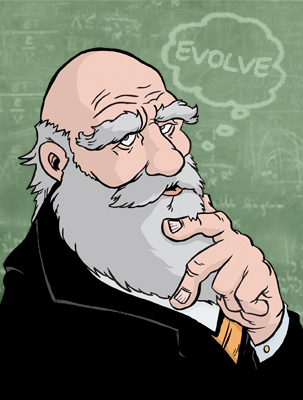 Honoring Charles Darwin, the father of evolution, Darwin Awards commemorate those who improve our gene pool--by removing themselves from it.
Slow Learner
2001 Darwin Award Winner
Unconfirmed by Darwin
(23 March 2001, Virginia) Brandon, 21, was driving to the courthouse to face charges of reckless driving, speeding, driving without a license, and failure to wear seat belts, when he lost control of his speeding vehicle. The Hyundai crossed the median of Interstate 64 and collided with a truck pulling a flatbed trailer carrying three cars. As luck would have it, Brandon had again chosen not to wear his seatbelt. He was ejected from the car, and died at the scene.
(March 2001, North Carolina) Justin's tale is more complicated, but his fate is equally apt. A failure to wear his seatbelt led him to 18 days in a coma, after he crashed his car at 90 miles per hour and was ejected from a window. But that was only the first of his mistakes. One year later, Justin was riding with a friend, again sans seatbelt, when the speeding vehicle careened off the pavement. Once again he was involuntarily ejected from the window, only this time he was killed on impact.
DarwinAwards.com © 1994 - 2017
Submitted by: Ryan Adams, Frank Underwood
Reference: David Chernicky of the Norfolk Daily Press, Raleigh News & Observer