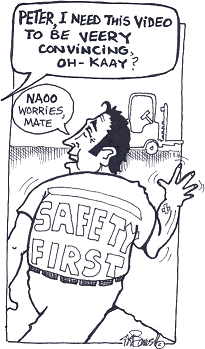 (11 March 2000, Perth, Australia) It just stands to reason, one should follow safe practices while filming a safety video. But the 52-year-old owner of a machinery and equipment training school violated that rule of common sense while filming a forklift safety demonstration.
With the cameras rolling, he was thrown from the forklift cabin and crushed. Subsequent investigation fingered the culprits responsible for the fatality: driver error and high speed over varied terrain, coupled with an unused seat belt.
His final safety demonstration was the most convincing of his career.