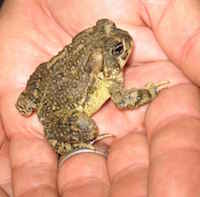 (1985, Australia) During my undergraduate years at James Cook University, I read a short article in the local newspaper regarding the peculiar antics of a pair of biology students required to dissect a cane toad.

The South American cane toad, Bufo marinus, was introduced to Australia as a biological control for the cane beetle, which destroys millions of dollars of sugar cane each year. This was an environmental disaster! First, the toad never developed a taste for cane beetles, but instead slaked its prodigious appetite with all manner of endemic fauna. Second, its toxins are not restricted solely to the two poison sacs behind its head, making it poisonous fare for Australian wildlife during every stage of its lifecycle.

Toads of the genus Bufo secrete a poisonous, mildly hallucinogenic alkaloid called Bufotenin, C12H16N2O.

In short, this toad eats anything smaller than it is, and poisons anything bigger.

Back in the laboratory, one student confidently bet his lab partner $20 that he would not swallow the ovaries of the cane toad they were dissected. In need of money, and impressed with the magnanimous offer, the lab partner ate the organs. He suffered FOUR cardiac arrests while in transit to the hospital.

He is not eligible for a Darwin Award, since he did not die, but I suggest that he deserves an At-Risk Survivor. I'd be interested to hear from readers from Townsville who can wade through the back issues of the Townsville Bulletin, and check the details.

The final sentence in the article suggested that we still do not know enough about the cocktail of toxins possessed by the cane toad.

DarwinAwards.com © 1994 - 2020
Submitted by: Brett
Reference: Townsville Bulletin
Thanks to www.jcu.edu.au/school/tbiol/zoology/herp/tfrg/bufo.jpg
and www-astro.physics.ox.ac.uk/~erik/toad/images/bufo.marinus.hand.jpeg
for pictures!