Beer Chaser
2002 At-Risk Survivor
Confirmed True by Darwin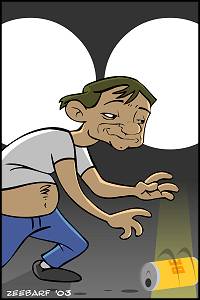 Was the beer half-full, or the brain half-empty?
(15 October 2002, Texas) A man chasing a half-full beer can across a Houston freeway was struck by a Chevy truck before he could retrieve his prize. He was taken to a nearby hospital, where he is listed in critical condition.
DarwinAwards.com © 1994 - 2020
Submitted by: Jonathan Charon
Reference: ABC News 13 KTRK Houston
What Readers Think

AT-RISK SURVIVORS HAVE MISADVENTURES THAT STOP SHORT OF THE ULTIMATE SACRIFICE. NEVERTHELESS WE SALUTE THE SPIRIT OF THEIR COLOSSAL BLUNDERS WITH AN HONORABLE MENTION. BETTER LUCK NEXT TIME!