Hippo on Dwarf Diet
1999 Urban Legend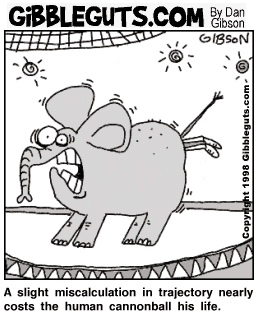 Scott A. Matthews says, "This story is true! It actually appeared on the front page of The National Enquirer circa 1982 as "Dog Communicates With the Dead" and other fine stories. Unfortunately my wife came across my only copy with these remarkable headlines and tossed the magazine out thinking it was just trash."
(15 July 1999, Bangkok) A circus dwarf met a disastrous demise, when he was swallowed by a hippopotamus in a freak accident in northern Thailand.
Od the Dwarf had just astounded the audience with a trapeze performance, when he dismounted onto a trampoline at a bad angle. He was launched sideways into the mouth of a yawning hippopotamus waiting to appear in the next act. Hilda the Hippo gagged and instinctively swallowed the small man while spectators continued to applaud, not realizing their tragic mistake.
Horrified circus members rushed to save the dwarf, but were unable to extract him from the traumatized beast. Veterinarians defended Hilda by pointing out that she was a vegetarian, and had never before digested a circus performer.
The trampoline is being subjected to forensic analysis.
The circus is now hiring.
Submitted by: Iain Grosvenor, Cam Manewell, Jeff Gay, David Le Roy, Weathergeek
Reference: Australia Sunday Telegraph, World News Online, www.news.com.au, Sydney Daily Telegraph, Pattaya Mail