Falling Urine Deadly
1999 Urban Legend
(May 1999) This unfortunate woman was found dead on parkland in Yorkshire, England. She's believed to have been pierced by a shaft of frozen urine which had fallen from a leak in a toilet facility of an overhead plane.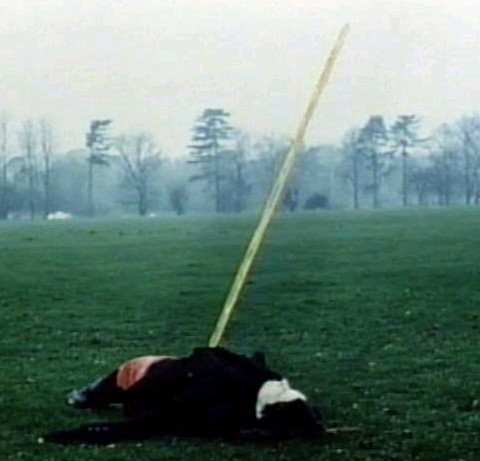 This photo is from the popular British spoof news program, The Day Today
Auxilliary says, "While living in Germany in 1985, I saw a news report of a large block of frozen urine that had fallen from an airplane. Something was loose on the plane and a quantity of urine fell from the airplane while it was in flight. During its fall, the urine became a frozen mass and finally crashed through the roof of someone's house. In 1989 I saw a similar incident while I was in Virginia. It may be that time and repetition has produced an urban legend such as this."
Submitted by Luke Bastoli
Previous

Next
Home

Rules

FAQs

Awards

Slush

Site Map
DarwinAward | HonorableMention | PersonalAccount | UrbanLegend