Disqualified: Glory Days Gone
( Excerpt from Chapter 6 )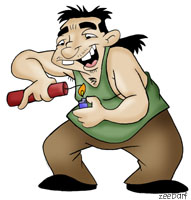 Not all submissions become Darwin Awards, and those that do are sometimes disqualified when new information comes to light, or extenuating circumstances are pointed out by readers. This chapter shows some of the stories that were nominated but ultimately disqualified for violating one or more "Darwinian" rules.
Darwin Award: What's That Sound?
Confirmed by Darwin
2 August 2002, Kansas | Police said an Olathe man was struck and killed by a train after his vehicle broke down on Interstate 35. His attempts at repairing his car had failed, and he had stepped away from the busy freeway to call for help. As luck would have it, he chose to stand on train tracks paralleling the road. When the train engineer spotted him standing on the tracks, the man was holding a cell phone to one ear, and cupping his hand to the other ear to block the noise of the oncoming locomotive. Reference: Kansas City Star, KCTV Channel 5 News, eyewitnesses.
Darwin Award: Wounded Wire Bites Back
Confirmed by Darwin
14 February 2002, Pennsylvania Daniel and his friend were practicing their marksmanship by shooting at targets in a farm field. But instead of the usual choices of mice, bottles, or birds, they selected a more worthy adversary: electrical insulators. These pear-shaped glass or plastic devices are intended to hold electrical wires aloft, but after the men shot six insulators off two utility poles, the shattered targets were no longer up to the job. A high-voltage wire fell to the ground and Daniel, attempting to prevent a fire, seized the sizzling wire in his hand, and was electrocuted. An Allegheny Power spokesperson advised people not to shoot at electrical insulators. Reference: Herald Mail
C h a p t e r 6 S t o r i e s
Disqualified: Human Catapult
Disqualified: Boomerang Effect
Disqualified: Cop Cap
Disqualified: Next Time Try a Taxi
Disqualified: Fatal Cue
Disqualified: Midnight Snack

Disqualified: Rock Climbing Priorities
Disqualified: Slick Shit Slip
Disqualified: Speed Bump
Disqualified: Life's a Gas
Disqualified: Tainted Turkey
Disqualified: Wild Mushrooms
Darwin Awards - Honorable Mentions
Chapter Links:
More about the merits of the story, Fatal Cue.
A moving account of the climb featured in Rock Climbing Priorities.
Author Bio: Wendy Northcutt holds a degree in molecular biology from UC Berkeley. She began writing Darwin Awards in 1993, and founded the website soon thereafter.