Outlaws: Crime & Punishment
(Excerpt from Chapter 8)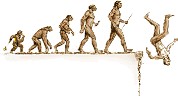 Darwin Award: Human Popsicle
24 January 2000, Ohio | The Los Angeles Police Department contacted Ohio police hoping to locate a missing truck driver and his load of broccoli. The stalled truck was located in Ohio four days later and towed to a local mechanic. They thawed and refueled the truck and found that, apart from an empty gas tank, the vehicle had no mechanical problems, but the driver's personal effects and seven bricks of marijuana were discovered in the cab of the vehicle.
The trucking company and the police were both interested in the whereabouts of the errant driver, and a search was initiated. Shortly thereafter a patrolman noticed two feet protruding from between the pallets of broccoli-feet which belonged to the missing man.
The broccoli was unloaded as quickly as possible in the cold Ohio winter, leaving the frozen body of the driver standing precisely upside down, attached to the floor of the trailer by his head. He was surrounded by space heaters and eventually pried off the floor, but his frigid corpse, arm extended, had to be turned on its side to maneuver it into a rescue squad vehicle.
The Cuyahoga County coroner's office determined that the man had been trying to retrieve a stash of cocaine from between the pallets of broccoli when he fell and knocked himself unconscious. He soon suffered a fatal case of hypothermia and died in the icy air. Perhaps this unfortunate soul should have confined his drug smuggling to the more clement climate of California.
Reference: Richfield Township, Ohio, Police Department Incident #00514
C h a p t e r 8 S t o r i e s
Human Popsicle
Ski Theft Backfires
Escaping Conviction
Killing Time
Just Say No!
Stab in the Dark
You Said a Mouthful
The Sting

Ferguson 2, Thieves 0
Morsel of Evidence
Call Girl
Bodacious Bud
Siphon!
Planning Ahead
Sobriety Test
Medical Misadventures
Darwin Awards - Honorable Mentions - Urban Legends - Personal Accounts
Author Bio: Wendy Northcutt holds a degree in molecular biology from UC Berkeley. She began writing Darwin Awards in 1993, and founded the website soon thereafter.