Support your species--
buy a book!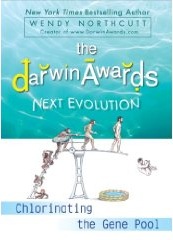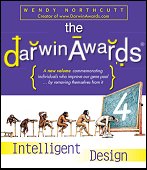 Darwin Awards Next Evolution: Chlorinating the Gene Pool. Hardback. Available in retail bookstores, and online at Amazon, Barnes&Noble, Borders, IndieBound, etc.
Darwin Awards 4: Intelligent Design. Paperback. Available in local retail bookstores, and online at Amazon, Barnes&Noble, Borders, IndieBound, etc.
Support your species-- buy a book!
Within These Portals Lurk 773 Enterprising Demises.
College senior Carl Overton created a 2-minute animation of Catapult to Glory (text) featuring Tom Cruise. Enjoy this classic Darwin Award!
Women winning Darwin Awards?!
It's crazy, we haven't seen this many since never. Three below, and just coming across my desk is this report: "Angela Gaskin's mother admits her daughter was 'always in a party mode.' Angela, 20, was killed when her head struck several mailboxes. She was playing Nintendo in the passenger seat, then threw her head out the open window. Authorities said the woman was "just hanging out the truck window, having fun" and didn't see the mailboxes. Her mother found the story 'credible.'" Here are three more wonder women:
Double Dip (darwin award)
North Carolina | Greensboro was inundated with four inches of rain in two hours but Rosanne, 50, was not deterred. She hopped on her moped and drove to a convenience store nearby where she "possibly had a beer" before heading home. "My moped has two rubber wheels, I'll be fine..." Read on.
She Talks Faster Than She Walks (darwin award)
Louisiana | Annoyed at how slowly her boyfriend was driving, Tamera B., 22, encouraged him to pick up the pace so she could get to work on time. Joking that it would be faster to walk to work, she opened the door of the truck and stuck her foot out... Read on.
Trifecta Electra! (darwin award)
Florida | The Slush Pile mods say age fifteen is too young to win, but this case might be an exception. A family of three, a mother and father and 15-year-old son were putting up a ham radio antenna... Read on.
Pill Pusher (near miss)
Pennsylvania | My husband worked at a small, busy rural pharmacy. Early one morning he dispensed a prescription for anti-nausea tablets and suppositories to the mother of a teenager, labeled with clear directions... Read on.
Homemade Howitzer (near miss)
"I was the lucky orthopedics resident on call on July 4th when a gentleman reported to the trauma unit peppered with thousands of black spots of embedded gunpowder, face, chest, and arms..." Read on.
Saw It Coming! (darwin award)
Pennsylvania | A severe storm damaged power lines and left 17,000 homes without electricity. Seven hours after the electricity failed, Mieczyskaw Mil finally lost patience. The old man had been shooed away repeatedly by firefighters who were guarding the power line, but they were not prepared for the homeowner's sudden bold move... Read on.
Bricks In The Head (darwin award)
United Kingdom | Firefighters used hydraulic rams and high pressure air bags to allow paramedics to reach the man, but it was too late. Another DIY project gone wrong... Read on.

Caps'n'Hammer Kid (near miss)
(2009) Everyone does dumb things when they're kids. My dumbest decision was almost a life-altering event. At that time, caps--tiny explosive charges sold for use in toy guns--were readily available... Read on.
Motorized Bar Stool (near miss)
New Jersey | Traffic officer Michael Trotter responded to assist the Newark Fire Department with a man who had suffered injuries from a crash--while driving a motorized barstool! Read on.

"Just think how stupid the average person is,
and then realize that half of them
are even stupider!"
--George Carlin

Not Even Half Baked (near miss)
After an extended night shift, our heroine, a working mother, decided to stay up until the kids came home from school. Being a thoughtful mom, the tired woman groggily decided that this was the time to bake a cake... Read on.
There is occasional dissatisfaction with the Darwin Awards Rules age limit, normally set at 16. Says moonflake, "It's a pity. This ex-idiot is a perfect candidate, but was only 15: 'The group of boys said they were train surfing in memory of three friends who died doing the same thing last Friday. One boy fell off the train and died on the scene.' I have no words."

What do you think, should this fifteen-year-old win a Darwin Award?